Mystery Skulls Animated - Hellbent is a Flash animated music video created by Mystery Ben featuring the track Hellbent by Mystery Skulls and Snowblood. [2] The video will be released on YouTube and is a sequel to "Ghost" and "Freaking Out".
As of February, 4th 2017 the crew started officially working on the video. A gif of The Mystery Skulls Van's stereo with the glitching name of the song and a magenta electrical shock-like lining can be seen on Mystery Ben's blog.[3]
During the three Mystery Skulls panels at Shuto Con 2017, Mystery Ben showed a preview of the animation that was roughly two minutes long. This was confirmed to be the introduction and features the song Every Note by Mystery Skulls.
Plot
TBA
Characters
Trivia
The song is featured in an episode of the TV series Lucifer. The song and the lyrics were actually made to fit the series' theme, where the Devil (Lucifer Morningstar, based on the Vertigo Comics series) takes a vacation from Hell and starts living his life in Los Angeles.
The song plays during the credits to the "Freaking Out" animation.
Gallery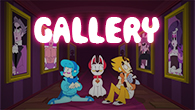 Click here to view this page's gallery.
References