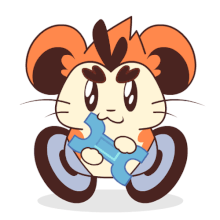 Galahad (mostly referred to as Galaham) is Arthur's pet hamster and loyal assistant to his mechanic tinkerings.
He was born with his lower half paralyzed due to a condition. Arthur built him a set of wheels with which he can move around nonetheless. Despite not having a lot of knowledge about mechanics and robotics, Arthur thinks of him as an assistant. Galahad will start tinkering on his own when not being supervised.
He is more often than not the reason that things fall apart at Kingsmen Mechanics, having stuffed screws and bolts into his cheeks.[1]
In the music video "Freaking Out" there is a hamster cage seen in the van. It is likely that Galahad is traveling with the group.
References
Edit
Ad blocker interference detected!
Wikia is a free-to-use site that makes money from advertising. We have a modified experience for viewers using ad blockers

Wikia is not accessible if you've made further modifications. Remove the custom ad blocker rule(s) and the page will load as expected.